Mass Payment 
A. What is Mass Payment ?
1. Mass Payment lets you send multiple payments in one batch.
2. It's a fast and convenient way to send :
Commissions
Salary
Rebates
Rewards
Disbursement
Refund
General payments to your agents or customers
B. Who can use Mass Payments?
You must have a verified senangPay account before you can use Mass Payment.
C. How to get this feature in my dashboard ?
1. Notify us by sending a ticket from the dashboard or guide page
2. We will reply through your email.
D. Does this feature have extra fees ?
Yes.
E. The benefit of using mass payment ? 
Send daily payments to merchants and your agents or customers in no time !
F. How to create Mass Payment ?
1. Create a list of payees in excel template provided by senangPay as shown below :
Name
Email
Bank Name
E-Banker Code
Bank Account Number
Amount
2. Save your file name using format : YYYYmmdd.xlsx
3. Upload the excel file in your server via FTP, before 12:00 am. Merchants need to provide FTP details to senangPay.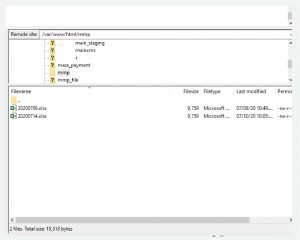 4. senangPay will process the payment the following day (Monday to Friday excluding Public Holidays)
5. senangPay will sent a new excel file on the payment result/payment status  (to the same directory on your server) the following day. The file payment status will be in the format : YYYYmmdd_result.xslx
e.g : 20200809_result.xlsx
6. Log in to your dashboard . Go to Menu > Mass Payment > Batch List 
7. Click 'View' on the right and get the details of each transaction as shown below :